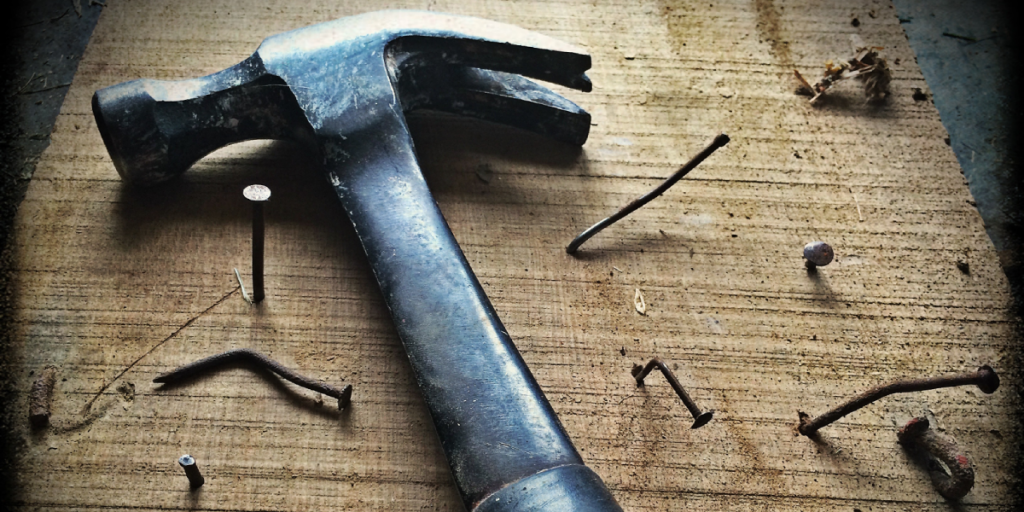 Confessions of a Recovering DIY Bizner
Ever secretly longed to star in a Do It Yourself catastrophe show?
PSST. Here's my dirty little DIY secret.
For 5 years our family suffered from plywood. Not by design…just a little impromptu reno (ok I flooded the dining room by accident) inspired me to rip out stained, smelly 20 year old carpet.
Life's busy…. SOOOO we lived with subfloor. We ALMOST varnished it and pretended it was 'eco' polished concrete.
I told guests: "keep your shoes on…splinters, you know….".
Joining the dining room carpet last year in the waste bin of good intentions, was the main floor tile. All of it.
Our friends "joked" about a flooring intervention.
We decided to sell in 2010 and suddenly – The Hammer Fell . My handy hubby could easily have completed the renos, given, haha, time. We paid 3X as much to get it done in 2 weeks. It was tense around our house in March. (No divorce, though.)
My unfortunate DIY habit goes back a long way. In my early biz years I pinched pennies and kept my own books (pun intended). I was introduced as "The girl who emails at 3 am". 'Trying to do it all', turned into 'digging a deeper ditch'. So, I hired a bookkeeper. Her first question? "Where's your deposit book?". (I didn't have one).
Cost: 3 months wages (mine) to recreate 3 years of records. GULP.
4 Tips from a Recovering DIY Bizner.
Good things come to those who tackle the job
Avoiding uncomfortable parts of your business (such as taxes, or finance) costs BUCKETS more to 'learn' later. I have seen this over and over – really great entrepreneurs who are "too busy" to get to the difficult stuff. Want to feel (and sleep) better? Get on it, now.
Your backup plumber needs a backup
Your customers may go bankrupt owing you money; your supplier's internal problems may create havoc on YOUR delivery schedules. Expect the unexpected; when you have a backup plan, you stay in control of the end results.
Don't substitute DIY for DATA
Experts can advise you on technical, outside of industry, or obscure information. Saving a buck on a consultant might seem the (short term) fiscally prudent strategy. But how can you make good choices without gathering the information first?As a business owner, you make the final decision, but you should do it from a place of knowledge, not denial.
The hammer still falls where you swing it
Choose a direction and GO! Be accountable, and ready to learn, if the financial picture changes. Perfect decisions don't exist. Make the decision, (and be ready to make it right if necessary)!
I'm relieved to report we successfully sold our DIY home, and are happy in our new one. NO renos on the horizon….but my hubby DID ask for a circular saw for his birthday. (AHHHHHHHHHHHHHHHHH)
I'm going to get him a referral to a good contractor, instead. I heard about this REALLY handy guy Mike Holmes…….